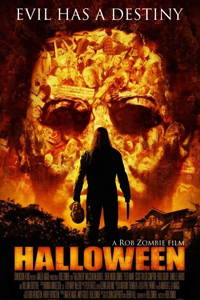 Halloween: A Rob Zombie Film
In Haddonfield, nine year old Michael Myers is being raised by a dysfunctional family. He does, however, have a strong affinity toward his baby sibling Laurie. On Halloween, after an incident where he's bullied by a schoolmate, pictures of Michael torturing animals are found in his backpack. Psychiatrist Dr. Samuel Loomis urges Michael's mother to send him in for psychiatric evaluations. This triggers Michael to kill the bully, his sister and his sister's boyfriend.
Michael is committed to a sanitarium, where his treatment is overseen by Dr. Loomis. Fifteen years later, Michael escapes from the mental institute, slaying staff members, and heads to Haddonfield to continue his murderous rampage.
Director: Rob Zombie
Writer: Rob Zombie
Producer: Malek Akkad, Andy Gould, Patrick Esposito, Andrew G. La Marca, Bob Weinstein, Harvey Weinstein, Matthew Stein
Starring: Malcolm McDowell, Scout Taylor-Compton, William Forsythe, Sheri Moon Zombie, Danielle Harris, Kristina Klebe, Danny Trejo, Hanna Hall, Brad Dourif, Dee Wallace, Daeg Faerch, Tyler Mane