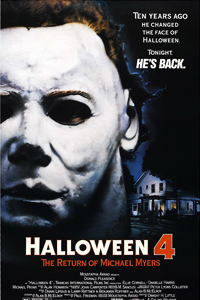 Halloween 4 The Return of Michael Myers
Michael Myers has been in a coma since his pursuit of Laurie Strode ten years ago. During a sanitarium transfer, he awakens when he hears that he has a niece in Haddonfield. He slaughters the transfer staff and escapes. Michael's niece, Jamie, has been adopted by a foster family, but keeps having nightmares about Michael.
On Halloween night, Jamie goes trick or treating, oblivious to the fact that Michael is following her and her stepsister, killing anyone who gets in his way. Dr. Loomis and the town sheriff search the town for Michael and Jamie…but can they stop the encounter before it's too late? And has Jamie inherited some of her uncle's evil tendencies?
Director: Dwight H. Little
Writer: Alan B. McElroy, Dhani Lipsius, Larry Rattner, Benjamin Ruffner
Producer: Moustapha Akkad, M. Sanousi
Starring: Donald Pleasence, Danielle Harris, Ellie Cornell, Beau Starr, Michael Pataki, Kathleen Kinmont, Sasha Jenson, Carmen Filpi, Gene Ross, George P. Wilbur