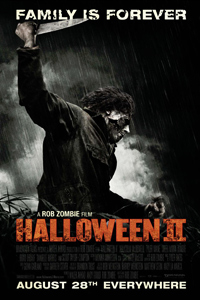 Halloween II: A Rob Zombie Film
Taking place one year after HALLOWEEN 2007, Laurie is now living with Sheriff Brackett and his family. Michael's body has been missing since last Halloween and Laurie has been having recurring nightmares about him. While Laurie deals with her trauma through therapy, Dr. Loomis has decided to cash in by writing another book and lapping up the attention from the press.
Michael, now living in an isolated barn, has been having visions of his mother's ghost and a younger version of himself. His mother tells him that with Halloween approaching, it's time to bring Laurie home. Michael sets off for Haddonfield and Laurie begins to have hallucinations that mirror Michael's, convincing her that he's coming home.
Director: Rob Zombie
Writer: Rob Zombie
Producer: Malek Akkad, Andy Gould, Paul Tennis, Andrew G. La Marca, Bob Weinstein, Harvey Weinstein, Matthew Stein
Starring: Malcolm McDowell, Scout Taylor-Compton, Sheri Moon Zombie, Brea Grant, Danielle Harris, Octavia Spencer, Margot Kidder, Mary Birdsong, Brad Dourif, Angela Trimbur, Jeff Daniel Phillips, Chase Wright Vanek, Tyler Mane