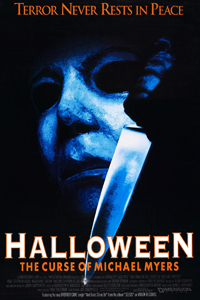 Halloween The Curse of Michael Myers
Six years after Michael Myers terrorized the town of Haddonfield, he and his niece Jamie have disappeared. Jamie was kidnapped by evil druids who protect Michael Myers. Jamie manages to escape after giving birth to Michael's child.
She turns the baby over to Tommy Doyle and Dr. Loomis to save the child from Michael. Living with members of the Strode family, Tommy suspects that the evil force that spurred Michael's murderous rage now curses young Danny Strode. Can Tommy and Dr. Loomis put an end to Michael once and for all?
Director: Joe Chappelle
Writer: Daniel Farrands
Producer: Moustapha Akkad, Malek Akkad, Paul Freeman
Starring: Donald Pleasence, Paul Rudd, Marianne Hagan, Mitch Ryan, Kim Darby, Bradford English, Keith Bogart, Mariah O'Brien, J.C. Brandy, Devin Gardner, George P. Wilbur